If you've ever seen me in person or seen some full length photos you'll know just how long my hair is. Every day I get compliments on my hair which always makes me smile however I also get asked A LOT of questions.
How did you grow it so long?
What do you eat?
What do you do to it?!
How often do you have it cut?
WHAT IS YOUR SECRET?
I have no secret so I thought I'd write up a post all about my hair, then when anybody asks me I can redirect them back to this page.
I sometimes feel a little like the sassy emoji
when people say how much they love my hair, why thank you, thank you very much I grew it myself!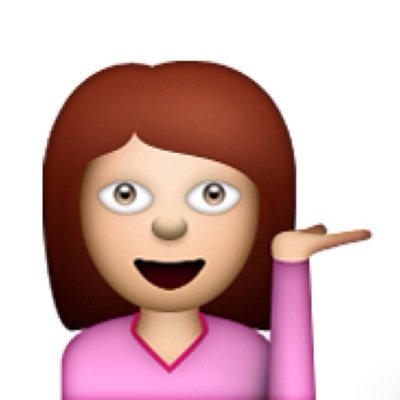 If you've read my 50 things about me post you'll know that from one of the facts that when I was younger a friend cut all my hair off (we were very very young and didn't know that we was doing anything wrong until my mum saw me and was instantly extremely angry! Since then I grew my hair out until I was around 13, I then asked my mum for a small trim before I started the new school year which resulted in my hair being cut from mid arm length to below shoulder length which made me CRY. I didn't even want to go to school but I was physically pushed through the school gates. I eventually got over it and it started to grow out again.
A year or two later I had my hair cut quite short again, but to a style and length that I really liked. It was the phase that everyone I knew was going through with the "Frankie from the Saturday's hair cut". From then until the age of 17 my hair didn't really grow much at all. I hadn't really noticed just how short it had stayed until I looked back on photos! From then my hair grew so much that it had started making a difference and I began to notice it.
When I was in college I didn't ever use heat on my hair, for one I was too tired to straighten my hair in the morning (and I was in the kitchen some days or doing restaurant service so it had to be tied back anyway) and secondly at night I would be too tired to blow dry my hair. My hair eventually became so healthy and long that I knew that this HAD to be the reason why it had grown so much in so little time. Even on weekends I wouldn't use heat on my hair and it worked wonders for me.
During college I had one hair cut at Toni & Guy where a girl on my facebook had asked for a model for a trim so I went in and had a slight hair cut but nothing life changing!
That was my last hair cut until 2015 where in February I changed hair colours and had a very small trim! I told the hairdresser I HAD to keep my length and I would be really upset if it was cut any shorter and she took it in really well and made sure I left the salon that day with just as much hair as I walked in with.
Right until now, December 2015 I've not had a single hair cut. That's basically my hair history and may give you a little idea how its become so long, little to no heat and only one or two hair cuts. Everyone's hair is different though so I would only recommend doing that if you are genuinely happy having your natural hair every day.
This year I've started to slowly bring heat into my hair care routine. I now wash my hair every 4-5 days and blow dry it when I do. I use a mousse in the roots of my hair along with any heat protectant we have in the house and hair oil. Usually I go for any that catches my eye in the supermarket but one of my favourites over the year has been the Organix Renewing Moroccan Argan Oil Penetrating oil at £7.00 in Asda. I simply run the oil through the ends of my hair (I have to use quite a lot as the ends of my hair are pretty looooongggg!) tip my head upside down and blow dry. It's very rare that I'll curl or straighten my hair but if I do I use some more heat protectant and go ahead as normal.
A good method for hair growth is baby oil. I have used baby oil in the past to help my hair grow but not in the last 3 years. I also know it's a really good method as my mum swears by using Johnson's baby oil to trigger hair growth as she used it on my brother when he was unwell and lost a lot of hair. It helps it grow back extremely fast and thick!
I don't eat anything in particular in my diet that could trigger the hair growth however I drink up to 5 cups of natural green tea per day, have a home made fruit smoothie for breakfast every day and drink as much water as possible. The best way to grow your hair is to literally take care of it, don't over use hair products on it, eat well and relax! You genuinely don't have to have a hair cut every few months in order for it to grow – I'm a prime example of this.
There really isn't much advice I can give on how I've grown my hair this long but hopefully my story gives you an idea!
I'll be doing a hair care routine blog post very soon so keep your eyes peeled for all the products I use from shampooing, conditioning, hair mask, mousse, oil and more.
Lots of love,
♥ ♥ ♥